You can show most iCal feeds on your server-powered calendar. Set it up as a data source, click on "iCal" and type n the url of the iCal data source. Yes – it's really that simple.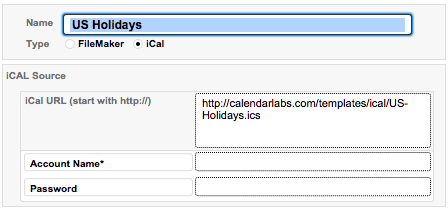 CALENDAR DEFAULTS
You can also assign specific settings to change how events in this feed show up on your calendar.
Event Display Type: all events can show up as background or blocked events.
Event Color & Text Color: all events can share the same color.
Resource: Enter the ID of the resource you'd like these events to be assigned to and any events without a resource already assigned will show up under this resource. If you're using Resource names instead of IDs, enter that here instead.
This is especially great when your resources represent people, and you want to overlay their Google, Outlook or Apple calendar as an overlay to your company calendar.